Cards game application "Svin" has developed and launched
02.05.2013 17:51
It is two months past from the moment when we started to develop a social application for VK.com network, which has cards games mechanic, relate to the popular american game UNO, and awesome "pigs" atmosphere. Finally, we got an expected result, project has launched and we might share a few words about how it has done.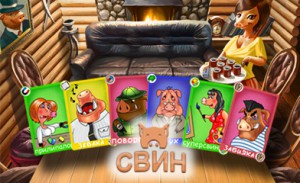 The game is about playing cards with users all over the social network. Everything happens in real time with real players. Therefore, we should had used very fast and synchronize server connection, when we was planning project's technical architecture. Had been under consideration, Websockets and NodeJS, was perfectly matched all requirements and we agreed on using it.
Client side has written with HTML5 and JavaScript, and performs all of the animations and control interactions.
We are certainly exciting about what we have done and hope players will enjoy the game, as well.